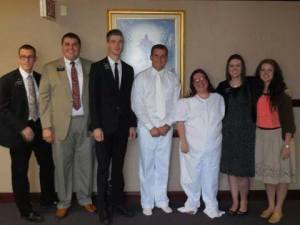 I had a couple of friends who live in Kingsland, Georgia.  One is a member and the other isn't.  He's an investigator.  Well,  I was living in Michigan and they needed my help with finances and I needed out of Michigan, so they offered for me to come down there.  But my one friend told me that they had missionaries coming in the home from the Church and I was OK with it because it just was about getting away for me at that point.  So I went down in August of 2013 and I met Elder Hamilton and Elder Craven. I wasn't ready to hear what they had to say so I didn't really listen. I was still smoking and not worrying about anyone else.  So as time went by transfers came and Elder Hamilton transferred out about 3 weeks after I had gotten down there.  And so the Sunday before I went to church and saw  my friend's daughter blessed in to the church.  The 2nd time I went but then I didn't want to go again after that.   I loved sleeping in at that point and because we were such a small ward, we only had one sacrament service which starts at 9 am.
In September of 2013 we all packed up and we moved in with a member thinking it was going to be better than where we were living, but it wasn't.  And so in November we moved out and moved into a motel that had suites available.  Before we moved there, in October, I found myself very depressed because I lost my only daughter on the 10th to premature death back in 2002.  The sisters came over, saw me and spent 3 hours with me along with a member.  That was the first real time I thought about what all was being said.
Well,  anyways, fast forward to November and we moved into the motel and I was still meeting with missionaries and transfers came.  I met two of the most amazing missionaries ever; Elder Masters and Sister Elg.  I still wasn't ready. I was still smoking and wanting to keep believing that God was only out to punish me for all the mistakes I had made. November came and went.  Then December came and the missionaries were still coming over, determined not to give up.
So then Christmas comes and we are having dinner with the Elders and the Sisters and I told them that my only New Year's resolution was to quit smoking.  On New Years day I stopped smoking and I even said my first prayer out loud,  with the Sisters first and then later that day with the Elders.  I didn't succeed in January but February transfers came and I met Elder Layton.  He was the one who helped me see that anything can and is possible if you believe and pray.  All the while I was still taking lessons with the Sisters.  In February the mission president decided that our area needed another set of Elders and so I met Elder Jenkins and Elder Jolley and they also told me I could quit smoking and that they would help too. I made the choice to quit smoking on Feb 27th 2014 and two weeks later on March 7th, 7 months after I first met the missionaries, I had my baptism interview.  And then March 8th, two days before my birthday, I was baptized by Elder Layton.  On March 9th of 2014,  1 day before my birthday, I was given the gift of the Holy Ghost and confirmed a member of The Church of Jesus Christ of Latter-day Saints by Elder Masters.  The following day I spent my 29th birthday with missionaries and also my first birthday as a member with fellow members.