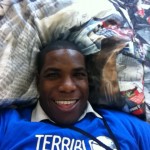 I was christened into the Methodist Faith and brought up with a belief in Jesus Christ. However, as I walked one day, two missionaries
stopped me and it felt as if a hand pressed firmly on my chest and a still small voice whispered, "Michael, stop and listen to what these two
messengers have to say." As they briefly explained the church, I desired to know more.
When the missionaries came to my house I explained myself and my beliefs a lot more. The Book of Mormon was then shown to me and my first
reaction was, "Oh no, it's not like me to be taking religion this seriously, and deeply, so I backed off."  The missionaries explained the
book and invited me to read and pray about it in my spare time.
That night after reading some of the book and having prayed to Heavenly Father, I could not sleep because the Spirit was so strong. (I am
full of the spirit of God, insomuch that my frame has no strength.1 Nephi 17:47)
When I went to the church the following day, I was overwhelmed by the fellowshipping I received. I spoke to the people at the church about
the feelings I had and they said, it was the "Great Spirit" or the Holy Ghost. (Believest thou there is a great Spirit? yea. This is God.
Alma 18:26-28)
Even though I was taught all the discussions, I do not remember them. But what I do remember, is feeling a great Spirit. I got baptized
about five weeks later.
In the name of Jesus Christ, Amen.